Are you a new mom that was told to use lanolin for breastfeeding? Here's a tip: Lanolin isn't safe, but there are options that are! Learn about the organic breastfeeding nipple butter I recommend to my friends.
When I was pregnant for the first time and learning about breastfeeding, I remember being told that lanolin was an absolute must-have for all breastfeeding mamas. So like the good mama I planned to be, I stocked up so that I'd have it on hand when the baby was born.
I used it religiously to try and heal my sore, cracked nipples, but it never did seem to do the trick. In fact, I ended up having to use polysporin to heal the cracks as they were starting to get infected. No matter how often I used lanolin, things just kept getting worse. I assumed I just had bad luck.
Kaylee was born in Uruguay, and I searched everywhere to find lanolin while I was pregnant with her to no avail. I learned that lanolin isn't used for breastfeeding there, and was directed to a pink tube of calendula cream. (I would link to it, but I can't find anything similar online here in the US.)
At the time, I thought it was so bizarre, but researched what calendula cream was. I was astounded that it wasn't used in the US as it's natural and much safer for babies. I also quickly learned it worked much better than lanolin ever did for me.
Only recently did I learn what a poor choice lanolin is for breastfeeding – or for any skincare use for that matter.
The Problems with Lanolin
First, let's talk about what lanolin is. Lanolin is a by-product extracted from the sebum (oil) on sheep's wool after it's sheared. That sounds like it's supernatural and should be safe, right? That's what I used to think.
One of the problems is that sheep are commonly treated with pesticides and insecticides because they're susceptible to pests. A Journal of Agricultural and Food Chemistry study published in September 1992 discovered lanolin samples they tested contained several types of pesticide residues. Some of the types of pesticides they found can accumulate in breast milk.
Lanolin can also cause allergic reactions and even poisoning if too much is ingested. For me, it's scary to think I was rubbing a pesticide-laden ointment onto my breasts and then feeding my baby believing it was safe for her to ingest.
Not only is it not safe but, as I mentioned previously, it didn't even work for me. There are some studies that have shown it is no more effective than leaving the breasts alone or rubbing expressed milk or olive oil on them. Another study showed the application of lanolin might even extend the healing time.
So you might be sitting there thinking, "Great, what am I supposed to use now?" I know that's what I would have been thinking when I was using it!
What to Use Instead of Lanolin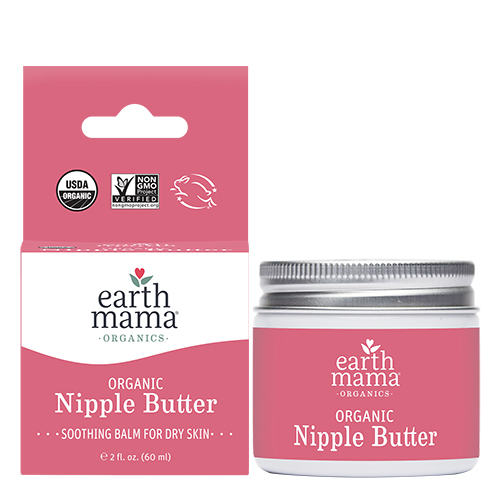 There is one product I highly recommend after trying it while serving as a brand ambassador for Earth Mama Organics. That product is the Earth Mama Organic Nipple Butter. It is both Non-GMO Project Verified and Certified Organic by Oregon Tilth.

The ingredients have lots of nourishing and healing properties:
Organic Olive (Olea Europaea) Fruit Oil, Organic Beeswax (Cera Flava), Organic Cocoa (Theobroma Cacao) Seed Butter, Organic Shea (Butyrospermum Parkii) Butter, Organic Mango (Mangifera Indica) Seed Butter, Organic Calendula (Calendula Officinalis) Flower Extract
You don't have to remove it before breastfeeding because the ingredients are so safe and natural. It's rated a 1 in the EWG database – a huge plus for me!
The consistency is very nice too. It's not greasy and absorbs well, but is very moisturizing and nourishing to the skin.
Is there a Vegan Nipple Butter option?
Yes, you're in luck, Earth Mama Organics recently released a Vegan Nipple Butter for vegan mamas.

And if you are afraid you'd never use a whole tin breastfeeding, it has a variety of alternative uses too!
Breast pump lube
Cover and protect scrapes and abrasions
Chapped lips, nose and cheeks
Dry cuticles
Minor rashes
Backup diaper cream
I have even put it on the dry patches on my hands and it feels very nice. I wish I would have known about Earth Mama Organic Nipple Butter when I was breastfeeding.
If you're a breastfeeding or soon-to-be mom, I highly recommend you check out Earth Mama Organics Natural Nipple Butter and the full line of wonderful products from Earth Mama Organics, one of my favorite brands.
Sources
Popular DIY Beauty Recipes